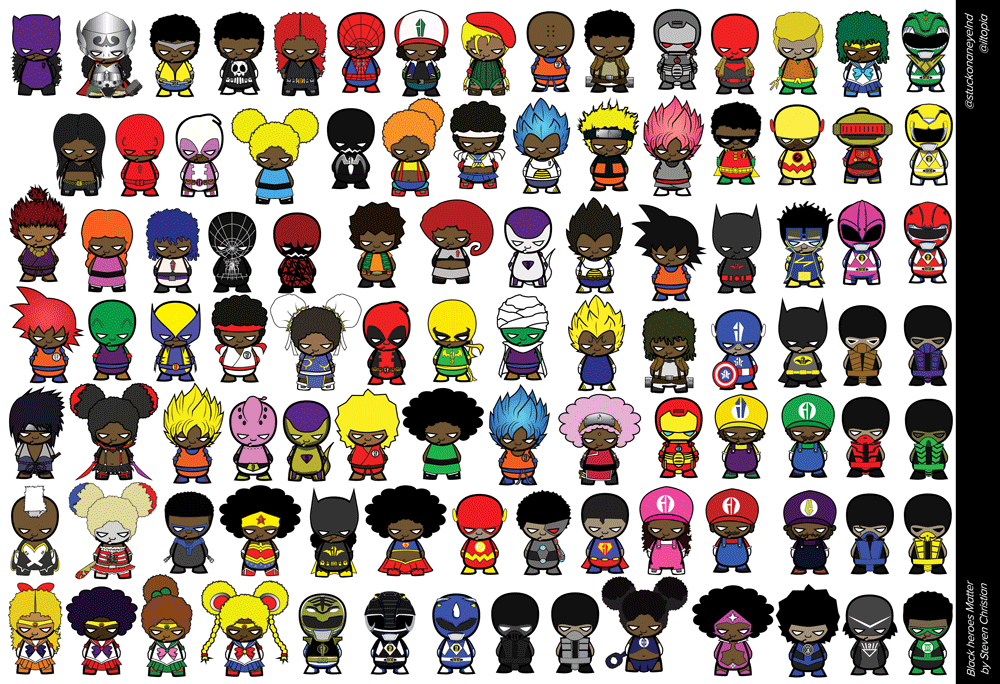 Black Heroes Matter is a Visual arts series created by Steven Christian in response to the#BlackLivesMatter and #OscarsSoWhitemovements back in 2015. He was upset with the fact that there were very few avenues of inspiration for people of color, and even less opportunities. This led him to conclusion that children of color will be steered down a wrong path if they don't have heroes/ positive role models they can personally identify with. As a Black visual artist, Steven felt that change will come when those with the skills and desire to bring about change actually take action regardless of the consequences. From that notion, Steven set out on a journey to redefine popular character in the image of children of color. The byproduct of this decision is a beautifully illustrated 130 page book full of your favorite cartoon characters and superheroes with darker skin, wider noses, and fuller lips. The book also include testimonials and quotes from contemporary heroes of diverse backgrounds, and their take on the current state of affair in mainstream media as it pertains to inspiring people of color to transcend stereotypes and be great. 
With every purchase of the book, You will receive a sticker pack of 8 handmade stickers that you can stick to any surface and share Black Heroes with the world! By supporting this project, you are taking action to support and bring about the necessary changes that inspire people of color to be the real life heroes they see on TV. Join Steven as he CREATESopportunities that CONQUER this adversity!
You can also order the coloring book, which allows you to color your favorite illustrations from the Black Heroes Matter series with your own colors!